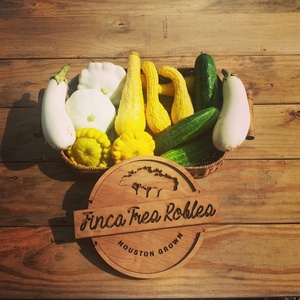 In the summer of 2014, my brother Tommy and I established Finca Tres Robles (Spanish for Three Oaks Farm), a startup urban farm looking to make agriculture accessible to Houstonians. Over the past 18 months we have transformed this 1.25 acre longtime vacant lot into a working farm, bringing fresh, quality produce to Houston's East Side.
One thing is consistent when we meet new people, whether at farmers markets, on the farm, or anytime the farm comes up in conversation, questions are never in short supply. The range of inquiries shows there is a significant interest surrounding food and has led us to develop a series of classes with something for everyone. On the farm, we value the importance of the hands-on experience and the long-term benefit of learning through doing. As such, all of our classes will be hosted on the farm, providing a space to get engaging lessons growing, cooking, and learning about food.
We are excited to be partnering with TXRX Labs to make these classes accessible to a broader audience. Look for our logo to indicate which classes will be hosted at the farm. Over time, we want to integrate the topics and resources already available at the lab into classes offered at the farm (arduino gardening anyone?). Together we hope to be an educational resource on all things food for the Houston community.
We are very appreciative for the support the lab has given to us and hope that we can bring something unique to contribute. We are eager to get started and look forward to seeing you out at the farm and around the lab.
Finca Tres Robles is located at 257 N. Greenwood Houston TX 77011. Learn more at www.smallplaces.org or sign up for classes at classes.txrxlabs.org