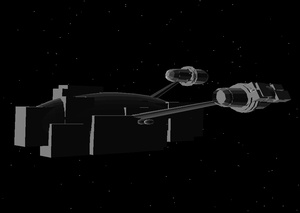 This past Sunday, August 11th, 2013, the 8th meeting of the Recreational Computer Programming Group convened to discuss the latest things going on in the local Recreational Programming scene. Things were a little light this month, with only your moderator, yours truly, giving an informal presentation.
Chris Cauley casually mentioned in passing a serious project he's been working on that may well hold the world record for sheer, utter, unbridled usefulness. He has created software which enables one to add dead pixels to any site, These dead pixels are persistent and one generates every other time you reload the page. A demo and instructions can be found here: http://chriscauley.github.io/dead_pixel/.
Steve Cameron bragged insufferably (he's doing it right now!) about the procedural 3D spaceship model generator he made, obviously inspired by ShipWright.. It's a C program that produces OpenSCAD code which produces a model of something which he desperately hopes might be mistaken for a spaceship. A video of this abomination in action is available here:
Code is here: OpenCSCAD in the "ship-not-even-wrong" sub-directory.
The next meeting of the Recreational Computer Programming Group is scheduled for September 8th, 2013.
Hope to see you there!