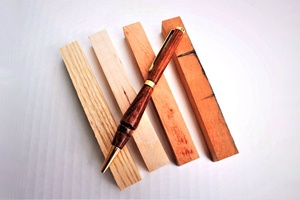 We have new woodworking and welding classes coming up in July and August. This is your chance to turn a pen on the lathe, make a custom knife block, or construct a welded sculpture!!
First, we have added wood lathe classes to the schedule for July and August. In Wood Lathe Workshop: Pen Turning 101, you will learn the basics of spindle turning on the wood lathe so you can drill, turn, sand, finish, and assemble your own custom ballpoint pen.
We also added a knife block workshop that will expand on the skills you learned in Woodworking I, Woodworking: Knife Block Workshop. This workshop is a perfect next step for those who have taken Woodworking I and want to apply their knowledge to new design projects while learning new tips and tricks. In this class, you can make a custom knife block to fit a knife from your own kitchen.
Lastly, there is a new welding I workshop on the schedule, MIG Welding I: Sculpture. This workshop will teach MIG welding with an emphasis on making art out of steel. The class will cover welding safety, machine setup, laying beads, and basic construction techniques all while students create a sculpture using provided materials.