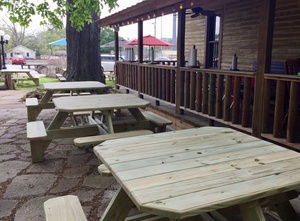 Tree Climber Creations is a family run shop that has been fabricating wood products at TXRX Labs for the past several months. They make high quality picnic tables and home accessories. Recently, Tree Climber Creations has developed a partnership with St. Arnold Brewing Company and will be producing picnic tables, serving trays, and more for St. Arnold's new beer garden. TXRX is particularly excited to feature Tree Climber Creations at this Friday's Open House. St. Arnold's will be sponsoring the event and TXRX will be laser engraving wooden coasters. This event is open to the public, so stop by for St. Arnold's beer, a custom coaster, and a sneak peek of the Tree Climber Creations products for the St. Arnold Brewing Company Beer Garden!!
Below is a recent interview with April Tillery, owner of Tree Climber Creations.
What is Tree Climber Creations? Who are the people behind it?
Tree Climber Creations is a family operated home goods shop. Charles and April Tillery are the couple that started it all but we hope one day to add to the team.
What products do you typically make?
We started out making heavy duty picnic tables and to this day it's still our best seller. We have sold 45 picnic tables this year so far! We also do cutting and serving boards, wooden combs, and various wooden home decor items. We occasionally take on custom work but as we get busier, we are doing less custom pieces.
What new opportunities has TXRX offered you?
TXRX has introduced us to other business owners, industry leaders, and community leaders that we would not have otherwise met. Access to equipment is helping us fill orders that would have been much more difficult on our own. For instance, we are building 20 picnic tables for the new beer garden at Saint Arnold Brewing Company and thanks to TXRX we can customize each one with the Saint Arnold's logo!
Could you tell us a little about the project you are working on with St. Arnold Brewing Company?
We are really excited to be working with Saint Arnold's! We've always been big supporters of theirs due to their involvement in the community and of course the best root beer ever! One night we were set up at their brewing hall for a Shop Local market and I met some of their staff that we had not previously met. They really liked our work and wanted to support a local business with the products that they needed for the new beer garden. Some of the staff already knew us from bringing the kids in often for root beer and pretzels, so they were excited to learn about what we do and work with us. We met again and went over some designs. Now we are working on tables, serving trays, pizza paddles, and beer flights for the opening! They are also going to be having a retail area that they would like for us to customize some items for them to sell.
What are your plans going forward?
Our plan is to be able to not only fully support our family (Charles still has a part time job other than this) but to be able to give back to the community and provide opportunities for other people to support their families as well. We see ourselves expanding to some of the surrounding cities, including Austin, but Houston will stay our home base. Our plan is to have a store front that is specifically for home goods produced by makers here in the Houston area. As far as our picnic tables, we will have a warehouse with a stock ready to go as soon as orders are placed for our most popular styles and sizes. I believe in our vision and I know with our community and TXRX in our corner, Tree Climber Creations will continue to be a fixture in the Houston community and beyond.
TXRX's Open House sponsored by St. Arnold Brewing Company and featuring Tree Climber Creations is Friday, May 18th, from 7:00-9:00.
For more information about Tree Climber Creations, please visit their website: http://treeclimbercreations.com.