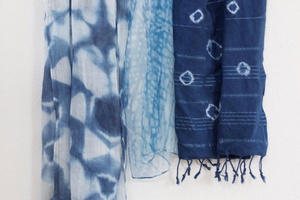 We are very excited about several new workshops coming up in May and June!! To sign up for any of these classes, please visit txrxlabs.org/classes/.
There is a Sunday Fun Day: Shibori Dye a Cotton Scarf workshop scheduled for Sunday, May 27th. In this workshop, you will learn three shibori techniques and use them to dye a cotton scarf. Plus, this Sunday Fun Day class is BYOB and snacks. We invite you to bring champagne, wine, beer, or any other beverages.
A Vinyl Cutting I - Decal & Stencil Making workshop is scheduled for May 26th. In this class, you will learn how to prepare vector images and how to use the vinyl cutter to create decals and stencils. Students will also have the opportunity to etch glass using a stencil.
A Craft + Wine Night: Acrylic Jewelry workshop is scheduled for Thursday, June 14th. This evening class will work with laser cut acrylic pieces to design and assemble earrings or necklaces. This class is also BYOB, so bring snacks and beverages!