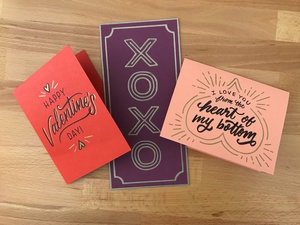 We are introducing monthly Date Night and Craft + Wine Night workshops at TXRX. These are two hour evening workshops where participants will learn skills, complete a project, and have a good time. We invite attendees to bring beer, wine, and snacks. In these casual classes, students will have plenty of opportunity to enjoy the evening.
This month, there are two evening classes scheduled. There are still openings in the first, a Craft and Wine Night on Friday, February 9th at 6:30. In this class, students will learn basic hand lettering techniques and make Valentine's Day cards for friends or loved ones.
To sign up for this class, visit the Classes and Workshops section of our website. Look out for more of these workshops in the future. Please email info@txrxlabs.org with any questions.