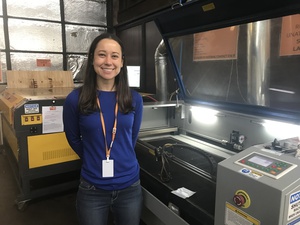 Megan is a TXRX staff member who teaches rapid fabrication classes and also manages the rapid fabrication area.
What is your role at TXRX?
I run the rapid fabrication (laser cutting and 3D printing) area and teach the classes. I also do mechanical engineering design work for projects as they come up.
What's your typical day like at TXRX?
Typically I'll spend some time organizing and maintaining the rapid fab area, then I'll work on conceptual and/or CAD design for whatever project I have going on. I'll mix in fabrication work when the projects get to the execution stage.
How long have you been working at TXRX?
Almost 1 year
What have you learned since you started working at TXRX? I've been slowly trying to learn how to use all of the equipment that the lab has to offer. I'm very excited to be gaining hands-on fabrication experience, because I've often felt that my engineering degree gave me great theoretical knowledge but that I was lacking in practical knowledge. I'm also constantly learning and being inspired by the projects our members are working on.
Do you make things?
Yes, I love the creative process of making things, whether it's a gift for someone, an organizational item for my house, an invention prototype, or a piece of art.