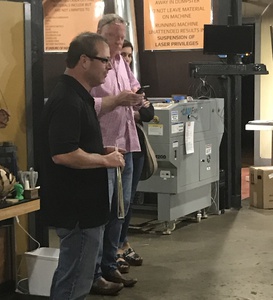 Steve is our regular volunteer on Friday nights. If you have come to an open house, you have probably seen him leading a tour. He has taken classes in the rapid fabrication and welding areas and ultimately wants to develop his welding skills so he can construct a velomobile.
What is your role at TXRX? I volunteer on Friday nights and usually do the open house tour. I also help out as needed like at the recent Maker Faire at the George R. Brown Convention Center.
What have you been working on recently? I took the Brazing class a few weeks ago, so I am practicing to get my welds better. I also took the laser cutting class and 3D printing classes so I am trying out different designs I have found on thingiverse.com until I get better at CAD. Things I have made are Raspberry Pi cases, laser cut candle boxes and guitar wall mounts.
Are there any projects you plan or wish to work on in the future? I have participated in the Art Car Parade in the past, but instead of an automobile, I would like to make a 3 wheel recumbent velomobile once I get my brazing down better. I will probably start with a standard design to get the work flow down and then work up to doing something really unique. If you have seen some of the art cars, there are some great ones by really talented artists. Since the doctor said I need to exercise more that kind of led me to consider a human powered vehicle.
Where is your favorite place in Houston? TXRX of course! Other than that, it depends on what I am doing. Last Concert Cafe for live music. West End Running Club and Memorial Park  for exercise. Miller Outdoor Theater for plays/events. Paper Co Cafe for food though Midtown Bar and Grill and Hughie's are right up there. 
Anything else you'd like to add that I didn't ask? I play in a band called The Scalers so come see us next month at Notsuoh's!