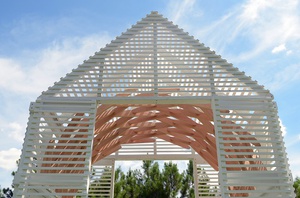 Nathan Vice recently completed the American Institute of Architects Houston Design/Make Residency at TXRX Labs. During his residency, Vice built the Lamella Pavilion which he installed on October 26th, 2017 at Buffalo Bayou Park. Below, Vice discusses his project:
"My name is Nathan Vice and I am an architect. I built the Lamella Pavilion at TXRX between April and July of 2017 as part of the AIAHouston Design/Make Residency.  The residency program was a unique opportunity that allowed me to establish the project requirements and be the master builder of my own project.
The traditional Zollinger-Lamella (1920) has been used primarily for utilitarian volumes such as barns and aircraft hangers.  A lamella span is a reciprocal structure composed of two units that have identical mirrored geometry.  The lamella arch is an economically viable way to build massive spaces with short lengths of lumber.  Historically the lamella is undervalued as a beautiful architectural feature.  The interior of the lamella is a stunning contradiction - it is both simple (in its repetition) and complex (in its geometry).  I chose to build a lamella arch out of red oak because of its rich color variation, exotic grain figuring, and its superior density, which allowed me to create precision surfaces.  I chose to design the lamella arch to span 7'-6" so that I could comfortably lie down beneath it.
In contrast to the superior red oak used to build the lamella arch, the white-washed shell is built out of readily available southern pine.  The velvety pink hues of the red oak and elegant lines of the lamella arch are emphasized by the simplicity of the white garden pavilion.  The entire pavilion was built by myself at TXRX in modular pieces sized for transportation and assembly. 
The capstone presentation for the Lamella Pavilion will be hosted by the Buffalo Bayou Partnership on October 26.  The pavilion and residency artifacts will be sold as donations to the AIA Houston to assist in rebuilding after the recent flooding."
To learn more about Vice and view additional images of his work click here.