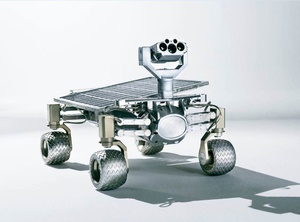 TXRX Labs Youth Programs will be running two "Space School" events this December in collaboration with Houston Area Space and Science Education (HASSE). The first event is a design competition in which students will design a prototype of a "lunar rover" for 3D printing. The second event is a two-day VEX robotics build competition in which students will build VEX robot rovers that will compete in a simulated "lunar mining" competition.
We are seeking assistant instructors with skills in CAD, 3D printing, and Robotics. Instructors will not be required to present content or run demonstrations, but instead to support lead instructors and assist students with individual work as well as group planning. The dates and times are listed below. In addition to the event times, a paid walk-through training will also be scheduled.
Design and CAD Modeling of a Lunar Rover
Event Times: Saturday, December 17, 9:30 a.m. - 6:30 p.m. Event Description: Students aged 15-18 will engage in the engineering design process to build a 3D prototype of a Lunar Rover. Students in groups of five will arrive with dimensioned sketches and use these sketches to build a 3D model using 123D Design. The prototypes will be 3D printed.
Instructors for the Design event should have experience with advanced CAD Software such as Solidworks, Inventor, Fusion360, or Rhino. We will be using Autodesk 123D Design, which is a scaled-down version of Inventor.
VEX Robotics Lunar Rover Build and Mining Competition
Event Times: Monday, December 19 and Tuesday, December 20, 9:30 a.m. - 6:30 p.m. Event Description: Students aged 12-15 will design and build VEX vehicles with an object manipulator such as a claw arm. The students will have the opportunity to test and improve their design before competing in a simulated lunar mining competition.
Instructors for the VEX Robotics events should have expereience with VEX, FRC, FLL or similar robotics platform. The students will not be coding the robots to work autonomously, so no experience with RobotC is required.
If interested or know anyone who may be qualified, please contact Joseph Miller
email: joseph.miller@txrxlabs.org cell: 970.310.6029