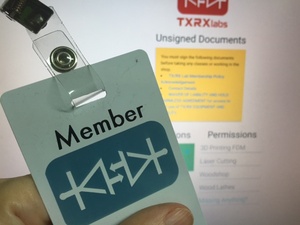 Everyone is required to wear their member badge at all times while present at TXRX Labs. These will soon be used to swipe for door and tool access as we roll out our RFID system. Recent badges have been backlogged due to hardware issues, but are now available for pickup. Old members will also need new badges issued/activated. We will no longer be marking individual permissions on the badges but rather keeping track of them on your account on the website.
We are also moving away from paper documents therefore all members who have signed forms in the past will need to resign the e-documents. You can sign your forms now by visiting txrxlabs.org/me while logged into the website. You will still need to come in for picture ID copy & headshot for identifying purposes. All of your permissions will be listed at txrxlabs.org/me so please check that they match what you know to be your completed courses and checkouts. If there is anything missing, please email membership@txrxlabs.org so that we can verify and update as needed.
If you lose your badge please inform membership@txrxlabs.org immediately so that it can be remotely deactivated. There will be a $5 replacement fee in order to be issued a new badge.
Available pickup times are during posted office hours. Please find Gaby in the office in the back of the classroom or if you are unable to make these times, email membership@txrxlabs.org to schedule.