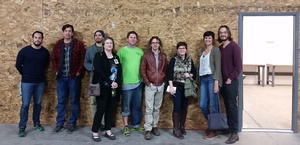 TX/RX Labs recently welcomed its first class of Resident Artists. The nine artists represent a wide array of artistic disciplines including sculpture, photography, ceramics and industrial design. All residents are Houston based, come from various backgrounds, and posses a variety of experience levels. As part of the application process residents proposed projects bringing together art and technology, which they will work on during their six month residency.
The residency program is structured to give participants an introduction to tools and technologies available at TX/RX Labs, then allow them to use those resources to bring their proposed projects to completion. The program is intended to promote collaboration between artists and technologists and Residents will have the benefit of advice and mentorship from TX/RX Labs experts in many fields. Resident Artists have access to the full range of equipment and processes available at TX/RX Labs, along with a shared studio space in the Garrow St. Annex.
During their residency, each Resident will keep a minimum of 10 studio hours per week. They'll also devote at least three hours per week to TX/RX community activities which will include things like maintaining the shop, assisting other Residents and community outreach, among other things. At the end of the residency period, a special open house will be held at TX/RX Labs at which works created by the Residents under the program will be on display. Residents will also be asked to give one workshop, demo, or public talk about their work and experience at the end of the residency.
The Residency program is meant to be intensely collaborative and interactive. Regular Resident meetings will focus on group discussion, critique and sharing information about techniques and materials which work and don't work.
Residents have gone through an orientation period which gave them a focused introduction to some of the major tools and techniques available at TX/RX Labs. Residency Coordinator Alex Goss is currently leading the Residents through a series of courses covering 2D Design and Fabrication and 3D Design. Throughout the residency, participants will continue with other courses as they work on their proposed projects.