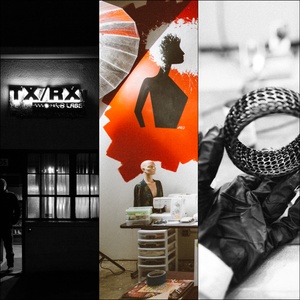 TX/RX Labs has a long history of assisting and supporting artists and makers. Today marks the beginning of a much larger collaboration between Houston's Artists and Makers and the extensive facilities, education, and community which has developed at TX/RX Labs. TX/RX Labs is announcing the creation of Artist Support Grants which will provide access to critical technologies, equipment, space, and collaboration for Houston's Artists on a level never before seen in Houston.
TX/RX Labs is well known among builders and designers for our unique facilities, training, and supportive community. The TX/RX Labs Artist Support Grant provides 6 months of Lab access to Artists allowing them to further develop their practice and techniques. Along with physical access to training and tools, Artists will gain access to the diverse group of collaborators and mentors who are associated with the lab, which will allow them to explore new areas and media, and to expand their creative boundaries.

The Grant specifically provides the chosen artists with access to:
-Classes and Training in subjects of their choosing
-Mentors and Subject Matter Experts
-3d Printing Lab (FDM/SLA/SLS)
-Laser Cutting Lab
-Electronics Design and Build Lab
-Welding / Fabrication Lab
-Machining Lab
-Woodworking Lab
-Jewlery Studio
-Sewing Studio
-Printing Lab
-Leather Working Studio
-Ceramics Studio
-Personal Work areas and Storage Space

The application period for this grant is from now until November 6th, 2015. All participants will be chosen by the TX/RX Artist Support Grant Panel. Applications may be made through Submittable; more information is present on the TX/RX Artist Support Grant Website. The program is open to all Houston Area Artists over the age of 18.