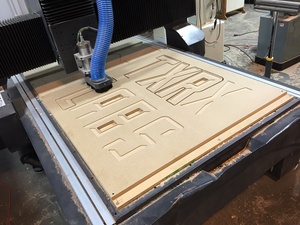 Well 2014 is behind us, what happened of note at TX/RX? What can we expect in 2015?
2014 Happenings:
Expanded into the new 7000 sq ft Woodshop
Added the 2000 sq ft Craft Space
Taught over 224 Classes with an attendance of 1760 Students (more than double the number of classes taught in 2013)
Held 20+ Workshops for local kids with Houston Public Library and Children's Museum
Fabricated a Spark Park at Revere Middle School in conjunction with UH Architecture Dept.
Completed some cool projects: Deltabot, Solar Tracker Array, Lots of Furniture, Laser Projector
Held the LinuxCNC Fest
Added/upgraded some tools: 4x5 Laser Cutter, 4x8 router table, Form 1+, New Woodshop, New Lathes and mills, 5x12 plasma table, new welders, vacuum former, burnout ovens and kilns, powdercoat oven, spray etcher, plating line, EDM
Attended: Comicpalooza, Minimakerfaire, PopShop, HPL events, among others
Beta Tested 3d printers and received 25 of them for our educational program.
What's on tap for 2015?
Possible expansion to another 12000sqft of space
Addition of Pick and place, Reflow oven, tubing bender, SLS printer, Injection molder, Jewlery Work Station
Hopefully we will teach over 300 classes in 2015
Provide training in 3d printing and electronics for other educators
Expand to offer classes in conjunction with HPL and others for kids
More crazy and exciting projects
I think it has been a pretty impressive 2014 and, if its any indication of how 2015 is going to go, I am very excited. I hope everyone will come out and participate in all the cool stuff going on.
A special thanks to all the folks who volunteer their time to make this happen. I know many of you have come to teach classes, help with events or do work to make the lab a better place and I greatly appreciate that dedication to making TX/RX what I think is a pretty amazing place!!
Happy New Year! -Roland