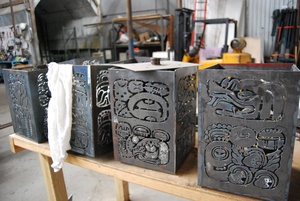 Lots of happenings at TXRX Labs, so lets get started.
--Puget Technologies has given TXRX Labs the opportunity to beta test their 3D printers they are working on releasing in the US market. Chris Kelly has been leading up the testing and lots of cool prints have been coming off there printers. They also made a generous donation to help support the lab and its mission.
--We have been scheduled to teach 25+ classes over the summer with the Houston public library! Magnetism, circuits and more for kids!!
--We are part of a grant written by Eddison Middle School for a 3d printing summer camp so we will be teaching a week long 3d printing camp, which should be amazing.
--We will take possession of our new art and craft space to being buildout in approx 30 days. Pottery, Painting, Sculpture, Glass, Casting, Jewlery areas will be built out to help bring the arts and sciences ever closer.
--Our Spring classes are going well, we are on track to once again have the largest session of classes in our now 3 year history. With lots of new classes (especially those in our new woodshop) its been a great session so far and there are still lots left to go.
--As always we continue to need help with promoting classes so please do what you can to help post fliers, post to forums, like us on facebook etc. THIS IS CRITICAL to the success of the lab and making sure our efforts within the community are maximized.
Lots of other cool stuff is happening but this email is already long enough... anyway a note new 3'x5' 130W laser and 4'x8' router table are on their way as well and lots of other goodies are incoming to the lab so it should be a really exicting summer (including a NEW AC unit to help take the edge off the heat)
-- -Roland