Join TX/RX Labs for an open house at 8:00 p.m. this Friday, October 15 as the group gathers for the first time at its potential/likely future home! The space is located at 2010 Commerce St., on the south side of the street, between Highway 59 and the railroad tracks. Parking is available on the north side of Commerce.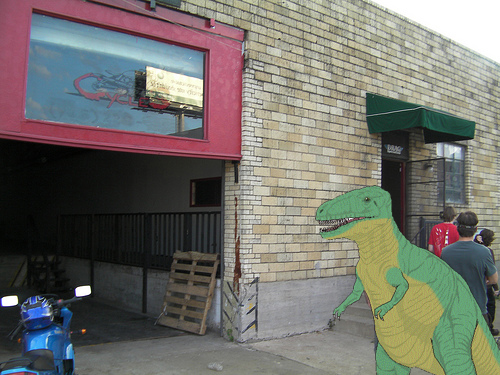 ---
TX/RX Labs entered talks last Friday to lease 4,000 square feet of warehouse space at the northern corner of the burgeoning EaDo district just east of downtown Houston. The new digs feature a 2,000-square-foot garage and an additional 2,000 square feet of lab, office and kitchen space. Power came online at the building at 2010 Commerce Street yesterday afternoon and the members have already begun planning their move in anticipation of signing a lease. The lessors - fellow members of TX/RX - predict that they will officially hand off the space on or around November 1 of this year, although the group will immediately begin holding ad-hoc events there.
Patrick Wheeler, TX/RX's President, remarked, "With this large space, we'll have the room to store and use some of the larger pieces of equipment we've always wanted." Current plans call for the eventual acquisition of a drill press, metal lathe and milling machine to complement the group's welder, maker-bot and other assorted tools and techno-knick-knacks.
Expressing his vision of the group's work, Patrick explained, "We're a practicum - everyone is involved, and each member's responsibility is to invent, to teach everyone else. There are so few places where that happens today, and for most people who do encounter it, that experience ends at the university level. So this is really about practical education for the rest of your life. We're about teaching people to be explorers of the universe and of technology, which is a huge black box for a lot of people. But in order to tackle the problems of the next few centuries, we need the general population to have an awareness of that technology. TX/RX Labs will provide the tools and resources necessary for members of the community to begin experimenting with, designing around and exploring creative solutions to those problems."
James Kern, TX/RX's Director-at-Large and resident network security expert, is excited about planning the new computer and electronics lab, as well as the group's upcoming curriculum of free classes on subjects ranging from computer security, to arc welding, to pottery (you may even see James wielding the chalk and eraser before long!). "We invite anyone with a creative spark in them to come out and see what we're about," James said. "TX/RX Labs has been a great success over the last year, and we can't wait to see where it will go from here."