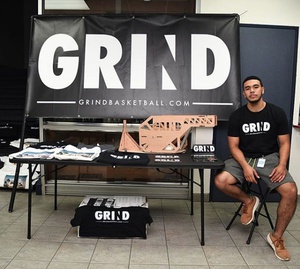 I recently sat down with Thomas Fields, Founder and CEO of GRIND, a startup that has developed a portable, basketball, rebounding machine. We discussed how GRIND's product is advancing and how TXRX Labs has been helpful in this process.
What is your product?
Our product is a portable, basketball, rebounding machine. Existing models usually weigh about four hundred pounds and cost four to six thousand dollars. Our machine will fit into a duffle bag and be affordable for individual athletes. The current prototype weighs sixty-five pounds and we are looking to reduce the weight to about forty pounds in the final version.
Where did the idea come from?
As a high school basketball player recovering from ACL surgery and trying to receive a basketball scholarship, I knew I needed to be taking five hundred to a thousand shots a day. I wanted to use a rebounding machine to accomplish this, but it wasn't feasible to access the one owned by my high school as often as I wanted to use it or put a four hundred pound machine in my backyard. I needed an option that was more affordable and practical, so I began developing my own.
How did making it begin?
After I graduated from high school, I attended a junior college and began working on the machine in my dorm. During the summers, I worked in my garage and learned the skills needed to start developing a prototype from friends. Eventually others with engineering backgrounds joined the team.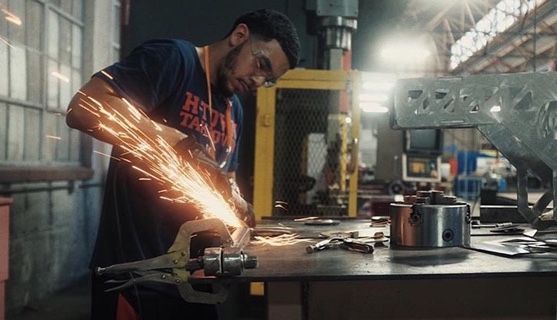 Where are you in terms of developing and marketing your product?
Right now, we are focused on finishing the minimum viable product. We are making ten rebounding machines for the first ten customers and creating a demo video. After that, we will begin manufacturing eighty preorders we already have lined up.
How did you find TXRX?
While working in the garage, I knew we needed office space but normal co-working spaces didn't make sense for us. You couldn't build real things there. TXRX was introduced to us by the RED Labs startup accelerator program at the University of Houston and after RED Labs, we moved into TXRX.
How have you been using TXRX?
We have been using the space and resources at TXRX. The direct access to tools including CNC machines, a water jet cutter, laser cutters, and 3D printers have allowed us to make forward progress in a cost efficient way. For the first ten machines we are producing, some of the parts will be manufactured at TXRX and some will be outsourced.
To learn more about GRIND, visit their website: http://www.grindbasketball.com
visit them on instagram: grindbasketball_
or visit them on twitter: grindinc_