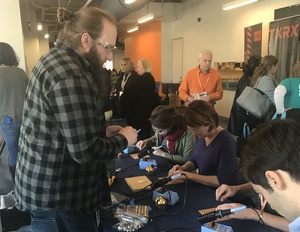 Last week, a team of TXRX staff members and volunteers installed and operated a miniature makerspace at the STEAM Summit at The Village School. The STEAM Summit was a gathering of educators investigating the role of science, technology, engineering, arts, and math in learning.
TXRX setup a miniature makerspace to demonstrate the dynamics of TXRX Labs and allow visitors to see the potential of makerspaces. The mini makerspace featured 7 stations including a 3D scanner, 3D printers, a laser cutter, a CNC mill, electronics, screen printing, and ceramics. The 3D scanner allowed attendees to have their upper body scanned and then 3D printed. At the electronics station, attendees were instructed on soldering basics and made a pin with LED lights. The laser cutter was used to engrave personalized messages and designs into anodized aluminum keychains. At the screen printing station, participants printed tote bags and at the ceramics station people tried out the pottery wheel or painted ceramic pendants.
TXRX was glad to expose students, teachers, and presenters to the possibilities of makerspaces. We tried to include representation from each area of TXRX, so that a range of offerings could be experienced. Thanks to the Village School for hosting this event!!