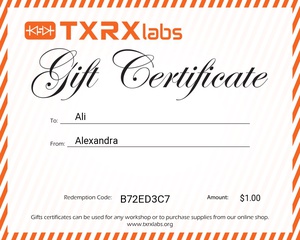 The Holiday Season is here!!! TXRX has gift ideas for you and your friends and family.
Give a TXRX Gift Certificate. You can choose to give a gift certificate for any amount. The gift certificate can be applied to a workshop or to supplies in our online shop.
How do I purchase a gift certificate?
To purchase a gift certificate, go to the TXRX classes website and select a class. Then, click on the blue button towards the bottom of the page that says Buy Gift Certificate. Enter to and from, and the amount for the gift certificate (Note: your gift certificate is not limited to the class that is on your current page). Select your method of payment and finish your transaction. After you complete your payment, you will receive an email that allows you to print out a hard copy of your gift certificate or send a link to the person receiving the gift.
There is also still time to craft a handmade gift in an upcoming workshop. The following workshops have space and will allow you to complete a project before December 25th:
Screen Printing I, December 10th
Jewelry I: Metalsmithing (make a cuff), December 10th
Woodworking I (make a cutting board), December 13th & 14th
Jewelry Basics: Textured Silver Ring, December 15th
Knitting (make an ear warmer), December 16th
Laser Cutting II: Leather Messenger Bag, December 17th
Happy giving!