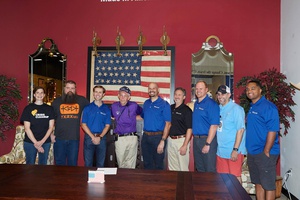 TXRX Labs receives $25,000 from Gallery Furniture for "maker" rebuilding initiatives Houston TX — [September 8, 2017] – TXRX Labs wants to help victims of Hurricane Harvey the best they know how, through making. With a generous donation of $25,000 from Gallery Furniture, TXRX will launch two "Crafters For Good" initiatives to assist in rebuilding efforts.
TXRX's Shop Manager Ronnie Devries is a certified jack of all trades, master of all. To further help Houstonians affected by Harvey, he will be holding workshops at TXRX in the coming days to help people understand the work that will need to be done to repair their homes, the associated costs, and tips for working with contractors. Class instructor, Ronnie Devries commented that "This is a very critical time for Texans affected by this storm. Unfortunately, mistakes in navigating the recovery process can be extremely costly and have life altering effects. Our seminars and educational materials are focusing on the urgent need to help citizens avoid those mistakes and to achieve the greatest results with limited resources." The one-hour seminars will be free to the public and take place at TXRX Labs 50,000 square foot facility this weekend beginning Friday, September 15 through Sunday, September 17, and more sessions and locations will be added as needed. Sign up for the seminars at www.craftersforgood.org.
For those interested in woodworking, TXRX will offer a "makeathon" where volunteers produce handcrafted furniture for those who lost these items in the floods. Our team of experienced craftspeople will lead groups of volunteers in our wood shop and welding shop to build basic home furniture for Houston families. People of all experience levels are welcome although volunteers must be 18 years of age or older. The first makeathon will be held this weekend beginning Friday, September 15 through Sunday, September 17. Volunteers can sign up for a 6-hour shift at www.craftersforgood.org.
Through the Crafters for Good initiatives, TXRX is bringing together the maker community with those who have been affected by Harvey to build and rebuild Houston.